The programme
The events with the Dalai Lama are open to all. Saturday is for a broader audience, whereas the talks from Sunday til Tuesday are designed mainly for people who are interested in Buddhism.
23 August: Human values in our lives
9:30 to 11:30 a.m. and 1:30 to 3:30 p.m.
No more tickets available!
The Dalai Lama will speak about an ethical system which extends beyond religion and unites all mankind. These values involve compassion, non-violence, tolerance and forgiveness. He will explain the role human values could play in solving enormous global issues and how we can develop them in everyday life and in meditation.
The sessions on Saturday appeal to audiences generally interested and those who wish to experience the Dalai Lama.
Recommended literature: Dalai Lama "Beyond Religion – Ethics for a Whole World", Houghton Mifflin Harcourt, New York, 2011
Ticket prices: Tickets range between 35 and 131 euros depending on seating category for Saturday.
24 / 25 August: Living wisely and compassionately – Lectures about Buddhism
9:30 to 11:30 a.m. and 1:30 to 3:30 p.m.
The Dalai Lama will instruct from the text "A Guide to the Bodhisattva Way of Life" (skt. Bodhicaryāvatāra). In his inspiring classic text, the Indian master Śāntideva (7th-8th centuries) describes a life's path in which one uses all ones energy in servicing others.
The virtues which are described here are universal and highly current nowadays: mindfulness, compassion, concentration and wisdom. The lectures from Sunday to Tuesday are directed at all Buddhists and all those interested in Buddhist philosophy, lifestyle and meditation.
Recommended literature: Santideva, A Guide to the Bodhisattvas Way of Life. Translated by B. Alan and Vesna A. Wallace, Snow Lion 1997
Shantideva and Padmakara Translation Group, The Way of the Bodhisattva. Revised Edition, Shambala Classics 2006
26 August: Initiation in Avalokiteśvara, the Buddha of compassion
8:00 - 11.30 am
The Dalai Lama will start with his preparation for the Initiation at about 8:00 am. The Live Webcast from CCH Hamburg will start at 7:30 am. The Initiation will start at 9:00 am.
Avalokiteśvara (tib. Chenresig) particularly embodies compassion of a Buddha indiscriminately directed at all sentient beings. In this ritual intended especially for practicing Buddhists, the Dalai Lama transmits the blessings of Avalokiteśvara.
This ritual is a prerequisite in order to subsequently meditate on this deity. Through this meditation the participants can develop their compassion and further strengthing it in their daily practice.
This ritual is particularly intended for Buddhists, especially students of the Dalai Lama. Of course, Non-Buddhists are also invited to attend exempt from any obligations.
Recommended literature: His Holiness the Dalai Lama/Jeffrey Hopkins, How to expand love. Widening the circle of loving relationship, Atria Books 2006
Jeffrey Hopkins, Cultivating Compassion. Broadway 2002
Ticket prices: For Sunday to Tuesday, the tickets are between 110 and 390 euros, depending on seating category.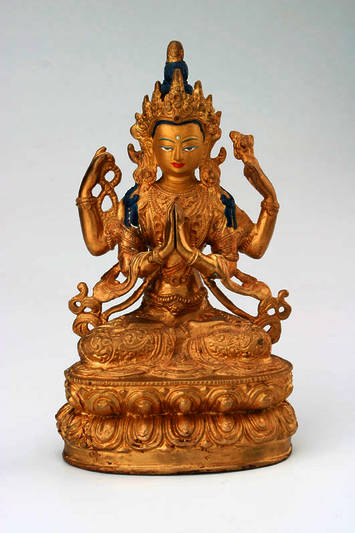 Avalokitesvara embodies the great compassion of the Buddha. The Dalai Lama will give the initiation into this Buddha on the last day.