Patron of the Tibetan Centre
Since the foundation in 1977, H.H. the Dalai Lama has been the patron of the Tibetan Centre. He first came to Hamburg in 1982 wherein he lectured about Buddhism at the University.
His 2nd visit to Hamburg in 1991 which took place in the Congress Centre (CCH) was under the patronage of Carl-Friedrich von Weizsaecker. He took that opportunity to pay the Tibetan Centre in Hamburg-Rahlstedt a visit, consecrated the temple and planted an apple tree in the garden.
In 1998 the Nobel Peace Prize winner accepted an invitation from the Tibetan Centre to its meditation house in Schneverdingen. A tented village was especially set-up there for 10,000 people for the seven day event "Buddha's Path to Happiness." The Dalai Lama stayed at the Tibetan Centre's meditation house for about ten days.
In 2007 the Tibetan Centre hosted a series of lectures in Rothenbaum in the middle of Hamburg. 10,000 people came for the weekend to "Learning about Peace", an event dialogue with guests from business, education, art and religious sectors. During the subsequent five days, the Dalai Lama clarified the classical Buddhist texts of the Indian Master Āryadeva.
In 2011 the Dalai Lama was the final speaker at the International Mindful Congress which the Tibetan Centre organised in cooperation with the Centre for Buddhist Studies at the University of Hamburg. The Dalai Lama spoke at the University about "Mindfulness - a Buddhist Practice for Today's Society", and participated in a podium discussion with Western scientists.
The Dalai Lama not only supported the Tibetan Centre with the great visits, but also regularly gave advice for the development of this organisation. For Buddhists and Non-Buddhists he is a source of inspiration.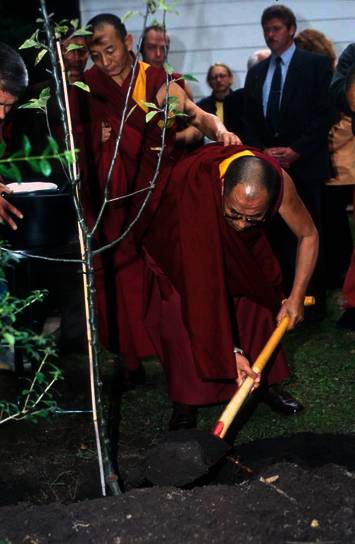 The Dalai Lama planting an apple tree during his visit to Tibetan Centre in Hamburg-Rahlstedt in 1991.